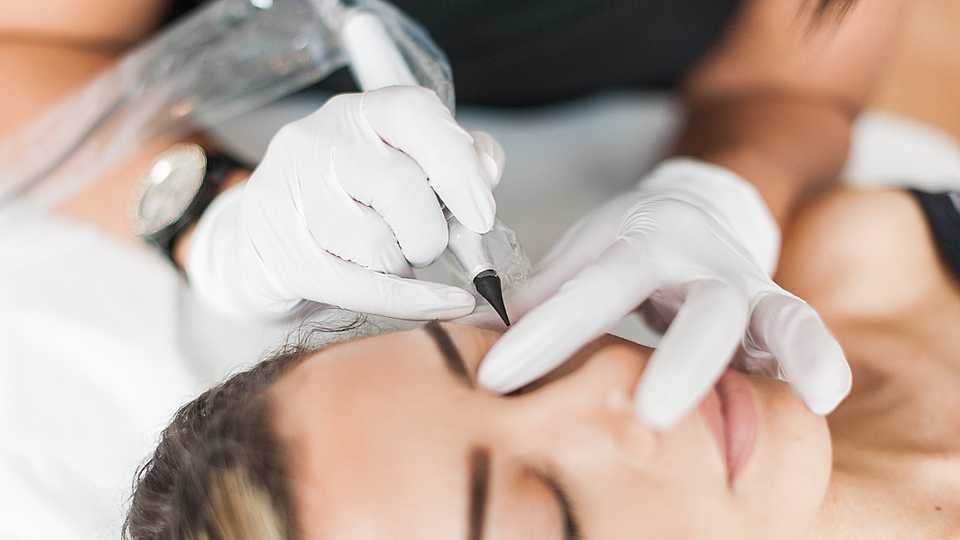 24/01/2019
Everything you need to know about eyebrow microblading
We tried it out, and here's the lowdown
Eyebrows are everything. Don't ever let anyone tell you any different. We're half joking, but over the last few years we've seen much more emphasis put on those strange little hairy caterpillars above our eyes and a whole load of weird and whacky brow trends have been popping up on Instagram.
And if you haven't been blessed in the brow department like Cara Delevingne, or the thought of having to painstakingly draw and shade the perfect arch on a daily basis is just a bit too much – we may have found the solution.
By now you've probably heard of microblading. It's a fave among beauty bloggers and celeb types, but you may have wondered what on earth's it's all about. Spoiler: it's not some form of brutal knife related torcher.
Here's the lowdown on microblading and where's best to get it done.
So, what is microblading?
Microblading is semi-permanent tattooing, which uses nine tiny blades (microblades) to deposit pigment under the skin of your eyebrows. It provides definition, enhances fullness and can be used to alter the shape of your brows.
How does microblading actually work?
Microblading (or eyebrow embroidery, as it's also known) uses a specifically designed tool, which bleeds pigment into the small scratches on the epidermis to create fine lines mimicking strokes of hair. The overall look is natural and realistic.
Prior to using the blades, a technician will draw and fill in your brows to determine your desired look.
How much does microblading cost?
Prices for semi-permanent makeup and microblading can vary, although it's usually upwards of £300 for treatments.
heatworld visited Sian Dellar on Harley street where prices for brow enhancement range from £395 to £595 and include a top-up procedure.
This might seem like a lot at first, but think of all the time you'll save literally not having to touch your brows when you're getting ready. Can you really put a price on an extra ten minutes in bed?
Who should get their eyebrows microbladed?
Whether you've got naturally sparse brows, suffer from thinning hair or alopecia, or just fancy a bit more definition, anyone can give microblading a go.
Sian Dellar offers a subtler powdered effect treatment for those who have eyebrow hair and want to enhance their natural look, as well as the hair stroke effect for those who have little or no hair.
What do microbladed eyebrows look like?
Again, results vary depending on your natural brows and your desired look (as well as aftercare – but we'll get to that later)
Check out these before and after shots.
Does microblading hurt?
We're not going to lie, it's not totally pain-free. But it's also not unbearable.
It's pretty much how you'd imagine teeny-tiny blades to feel on your brows – a bit scratchy. It's over pretty quickly and once you see your fancy new brows you'll forget about all the pain.
There can be a little discomfort during the healing process, but again, it's nothing we can't handle in the name of fleeky af brows, right?
How important is microblading aftercare?
For maximum results and to avoid any added discomfort, aftercare is very important. Most clinics provide detailed information on how to look after your newly microbladed eyebrows.
Sian Dellar provides detailed aftercare instructions for enhanced brows:
Do not get your brows wet for the first 7-10 days.
Use the healing balm (natural coconut oil) provided 2-3 times a day for the fiirst 7-10 days with a cotton bud- NOT YOUR FINGERS!
Do not apply any make up on the treatment area for the first 7-10 days.
No swimming, saunas/jacuzzi, sun beds for the first 7-10 days.
Do not have any other cosmetic treatments such as facials, skin peels, laser ect within the first 4-6 weeks.
Don't pick, peel or scratch the treated area.
Avoid direct sun exposure for the first 14 days.
After 10 days an SPF of 20 or higher should be applied to the area.
Long term – In warmer climates, keep your brow area covered with a hat and or large sunglasses.
What's the healing process like?
At first you're eyebrows, with their newly defined shape, fully look and enhanced colour will look FAB-U-LOUS. Then you'll notice the pigment darken – don't worry it will settle!
After about 3-5 days, your eyebrows will start to flake and peel. DO NOT PICK at the dry skin, keep applying the aftercare balm.
The flaking can last up to ten days and the colour may appear to fade to much lighter than expected. This is normal.
After about two weeks your brows will look how they're supposed to look, but it's important to maintain long-term care.
Keep the brow area moisturized and out of direct sunlight as much as possible.
Will I need a brow top up?
About 4-6 weeks after your first treatment, you'll need a follow up appointment to top up the pigment and to make any small adjustments to the shape or fullness.
How permanent is microblading? How long does it last?
Again, depending on how thick/full you want your eyebrows to look and how well you stick to the suggested aftercare guidelines, microblading can last between one to three years.
Top-ups may be required within 12 months.
Where can I get eyebrow microblading?
It's best to go to a clinin specialising in semi-permanent makeup.
heatworld paid a visit to Sian Dellar's Harley Street clinic.
Both practitioners, Sian and Carrina, are friendly, professional and more than willing to answer any questions you may have about microblading or other permanent makeup procedures.
(Sian carried out our first procedure, then Carrina gave us the top up a month later)
We felt in very safe hands and the procedure was quick and easy.
As well as a consultation, talking through the microblading process, Sian and Carrina, clearly explain the aftercare process and what you can expect your brows to look like in the coming weeks.